Food allergies are a growing health concern1
Up to 10% of the population has a food allergy, and this has likely increased in the past decades.1,2 Here are a few facts about food allergies.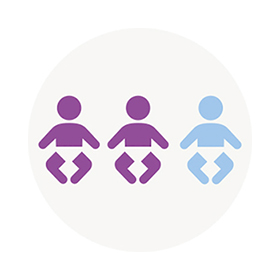 2 out of 3 children who develop a food allergy don't have a parent with one3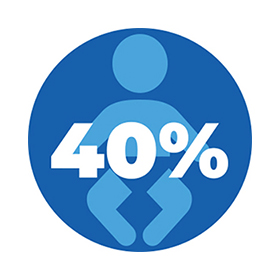 Amongst food-allergic children, almost 40% develop an allergy to more than one food4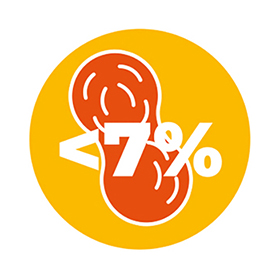 Peanut allergies can be very severe, but less than 7% of people are allergic to peanuts alone4,5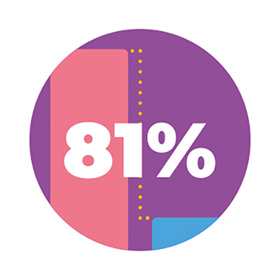 Early dietary exposure reduced peanut allergy risk by 81% compared to avoidance6
SpoonfulOne research
SpoonfulOne is backed by multiple proprietary studies.7-9
Why is early inclusion of allergens so important?
When Kari Nadeau, MD, PhD,* saw how food allergies can disrupt the lives of children and their parents, she decided to do something about it. Discover how she used her expertise to create SpoonfulOne, what makes SpoonfulOne so unique and why early inclusion of allergens is so important.
*Director of the Sean N. Parker Center for Allergy and Asthma Research at Stanford University's School of Medicine, Stanford CA, USA.
How can SpoonfulOne help?
SpoonfulOne is a convenient way to include common food allergens to your child's diet. Explore our range of products below to see the world of benefits SpoonfulOne has to offer.
1. Prescott S, et al. A global survey of changing patterns in food allergy burden in children. World Allergy Organ J 2013;6:21.
2. Sicherer SH & Sampson HA. Food Allergy: A review and update on epidemiology, pathogenesis, diagnosis, prevention, and management. J Allergy Clin Immunol 2018;141:41-58.
3. Gupta RS, et al. Hygiene factors associated with childhood food allergy and asthma. Allergy Asthma Proc 2016;37:140-146.
4. Gupta RS, et al. The public health impact of parent-reported childhood food allergies in the United States. Pediatrics. 2018;142(6):e20181235.
5. Gupta RS, et al. Prevalence and severity of food allergens among US adults. JAMA Network Open. 2019;2(1):e185630.
6. Du Toit, et al. LEAP Study Team. Randomized trial of peanut consumption in infants at risk for peanut allergy. N Engl J Med. 2015;372(9):803-813.
7. Data on file. Before Brands, Inc 2019.
8. Holl J L, et al. A randomized trial of the acceptability of a daily multi-allergen food supplement for infants. Pediat Allergy Immunol, 2020; 31:418-420. doi:10.1111/ pai.13223
9. Data on file. Before Brands, Inc 2019.
Important Note: Do not give SpoonfulOne if your baby has a known food allergy to any of the ingredients. It is recommended to give SpoonfulOne together with complementary feeding from 6 months of age. Consult your healthcare professional if you have concerns about introducing SpoonfulOne, or if your baby has eczema. In case of any allergic reaction to the product, stop SpoonfulOne and seek medical assistance without delay.