Our Story starts with our inventor
When Kari Nadeau, MD, PhD,* saw how food allergies can disrupt the lives of children and their parents, she decided to do something about it. Discover how she used her expertise to create SpoonfulOne, and what makes SpoonfulOne so unique.
*Director of the Sean N. Parker Center for Allergy and Asthma Research at Stanford University's School of Medicine, Stanford CA, USA.
SpoonfulOne was inspired by two critical observations:
Research shows that consistent feeding of food allergens over months to years is required to reduce the chance of your child developing a food allergy,3-5 which can be challenging for families. SpoonfulOne's child-friendly formats make 'early and often' feedings more achievable.
Less than 7% of people in the US are allergic to peanuts alone1,2. Since experts recognise the safety of feeding multiple allergens early,3-9 SpoonfulOne was designed to include the 16 food proteins associated with over 90% of food allergies.1,10-12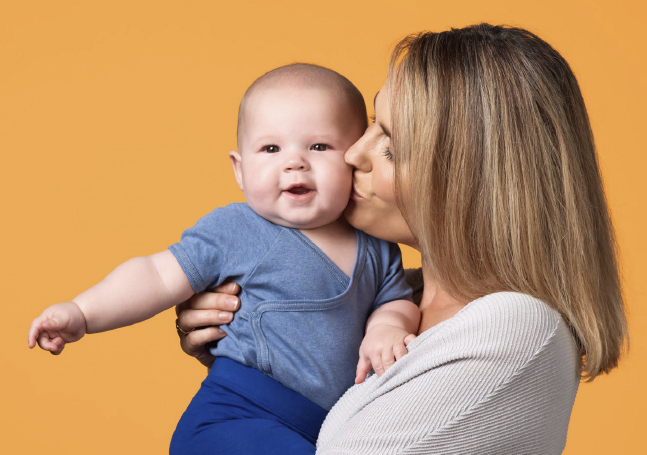 Carefully crafted, with a focus on protein integrity
SpoonfulOne is made from high quality ingredients, with no added sugar and flavours.
We also validate our products' proteins in order to meet our scientists' stringent standards and to ensure the food proteins' structural integrity.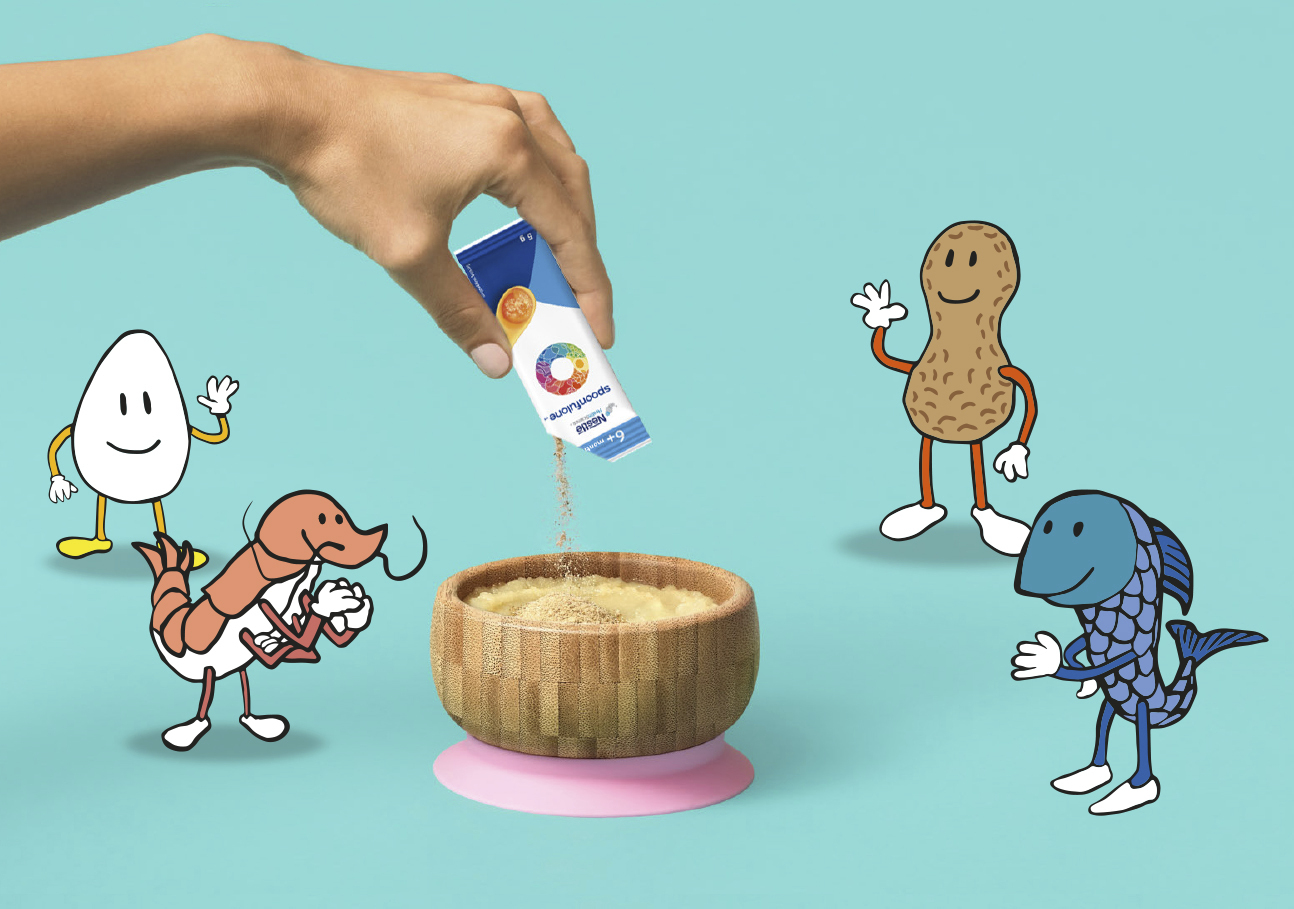 About our Foundational Food Blend
Designed for routine, early and diverse inclusion of food allergens, each product includes a spoonful of our Foundational Food Blend – precise portions of peanuts along with milk, shellfish (shrimp), tree nuts (almonds, cashews, hazelnuts, pecans, pistachios, and walnuts), egg, fish (cod and salmon), grains (oats and wheat), soy, and sesame.
1. Gupta RS, et al. The Public Health Impact of Parent-Reported Childhood Food Allergies in the United States. Pediatrics 2018;142(6):e20181235.
2. Gupta RS, et al. Prevalence and Severity of Food Allergies Among US Adults. JAMA Network Open 2019;2(1):e185630.
3. Du Toit, et al. LEAP Study Team. Randomized trial of peanut consumption in infants at risk for peanut allergy. N Engl J Med. 2015;372(9):803-813.
4. Du Toit G, et al; LEAP-ON Study Team. Effect of Avoidance on Peanut Allergy after Early Peanut Consumption. N Engl J Med 2016;374(15):1435-1443.
5. Perkin MR, et al; EAT Study Team. Randomized Trial of Introduction of Allergenic Foods in Breast-Fed Infants. N Engl J Med 2016;374(18):1733-1743.
6. Natsume O, et al; PETIT Study Team. Two-step egg introduction for prevention of egg allergy in high-risk infants with eczema (PETIT): a randomised, double-blind, placebo-controlled trial. Lancet 2017;389:276-286.
7. Roduit C, et al; PASTURE study group. Increased food diversity in the first year of life is inversely associated with allergic diseases. J Allergy Clin Immunol 2014;133(4):1056-1064.
8. Tran MM, et al; CHILD Study Investigators. Timing of food introduction and development of food sensitization in a prospective birth cohort. Pediatr Allergy Immunol 2017;28(5):471-477.
9. Venter C, et al. Different measures of dietary diversity during infancy and the association with childhood food allergy in a UK birth control study. J Allergy Clin Immunol 2020;8(6):2017-2026.
10. Nwaru BI, et al., on behalf of the EAACI Food Allergy and Anaphylaxis Guidelines Group. Prevalence of common food allergies in Europe: A systematic review and meta-analysis. Allergy 2014; 69 :992-1007.
11. Australian Institute of Food Safety. 2019. 10 Most Common Food Allergies in Australia. Available at: https://www.foodsafety.com.au/blog/top-10-most-common-food-allergies Accessed 31 August 2020.
12. Australasian Society of Clinical Immunology and Allergy. 2019. Food Allergy. Available at: https://allergy.org.au/patients/food-allergy/food-allergy Accessed 31 August 2020.

Important Note: Do not give SpoonfulOne if your baby has a known food allergy to any of the ingredients. It is recommended to give SpoonfulOne together with complementary feeding from 6 months of age. Consult your healthcare professional if you have concerns about introducing SpoonfulOne, or if your baby has eczema. In case of any allergic reaction to the product, stop SpoonfulOne and seek medical assistance without delay.
Australia only: We recommend to give SpoonfulOne to your baby as a convenient way to include food allergens daily, once common allergy causing foods have been introduced into your baby's diet.
Australia only: For advice on how to introduce common allergy causing foods refer to ASCIA guidance on 'How to introduce solids foods for allergy prevention (https://www.allergy.org.au/patients/allergy-prevention/ascia-how-to-introduce-solid-foods-to-babies).